Perennial Pots
$0.00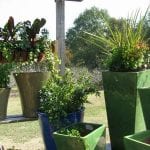 May 8, 2021, 10:30 – Perennial Pots – Linda Askey
Imagine having perennial pots that only need to be touched up for the season, not redone.  Linda will talk about how to choose an anchor
plant that will remain for several years and plant it in a way that allows seasonal changes of color that are effective, but not hard work
or high cost.  Tips include how to choose a container, potting soil, and companion plants to suit your growing situation.  Then with a
little know how, you'll be able to keep your pots not just growing, but growing better each season.
While there is no charge for this event, we will be requiring reservations in order to comply with CDC regulations regarding social distancing. Following state guidelines, we will be asking for those attending to wear masks.
Out of stock