November, 2019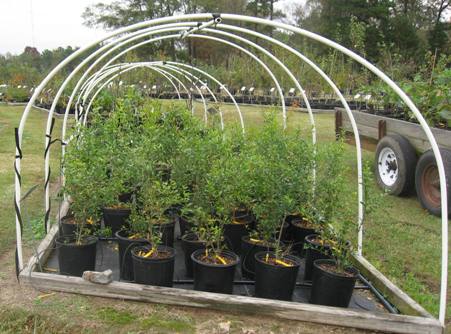 Prepare for Frost
It's that time of year again to check out your freeze cloth and make sure it is in good condition. If it needs replacing now would be the time to do it. It is a good idea to be ready for frosty weather.
We use this cloth to cover our citrus trees and any other frost tender plants. I use it in my vegetable garden to cover my lettuces. Citrus trees should be covered when the temperature is going to be 28 degrees or below. However if there is fruit on the tree it should be covered when temperatures reach 32 since the fruit will freeze at that temperature.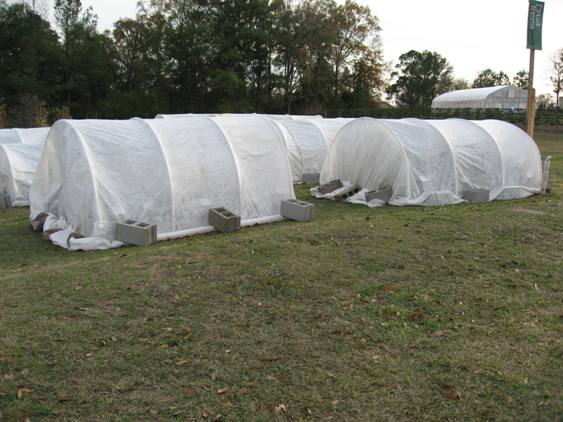 If this is the first year that your citrus trees are planted in the ground, make sure that you have a frame around them to support your winter cloth. Anywhere that the cloth touches the plant it will damage the leaves. Dr. Powell makes a frame from PVC pipe and rebar. You can too, just like at our nursery. The excess cloth should be weighted down with cinder blocks or rocks. It can also be rolled in landscape timbers or metal pipe. You don't want it to blow off exposing your trees to the cold and wind. If you have an electrical source nearby you could also place a light inside the frame which would give off additional heat.
This fabric is breathable and can be left on the trees for several days during a cold spell. It should be removed when the temperatures are above freezing to give your tree a chance to get direct sun. This cloth can be purchased at the nursery. It comes in 15 and 30 foot widths. We have some 15 x 15 foot lengths already cut. The cost is $25.00. However, we will custom cut any length you need.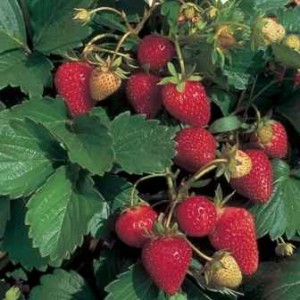 Fall is the Time to Plant Strawberries
In the south strawberry plants a planted in the fall and harvested in the spring usually in April and May. Our strawberry plants are here now. The varieties we have are Albion, Camino Real, Sweet Sensation, Camarosa. Albion. All these strawberry varieties have some disease resistance. Strawberry plants are susceptible to Verticullium Wilt so it is best not to plant them were nightshades have been planted or select varieties that are resistant to the disease.
Albion is a good choice for areas with hot summers. It is an everbearing variety which means it will flower and fruit continuously from late spring to fall. It is high yielding and tolerates heat and humidity with good disease tolerance.
Camino Real is a is a short day cultivar similar to Camarosa but a little later fruiting. The fruits are a little darker red than Camarosa, very firm and with good flavor.
Sweet Sensation (Florida 127) is a short day cultivar that is very high in sugar content which makes it very sweet. It has large fruit with a juicy texture and an extended shelf life.
Camarosa is an early short day variety that produces large conical shaped fruit that are attractive and sweet with excellent shelf life.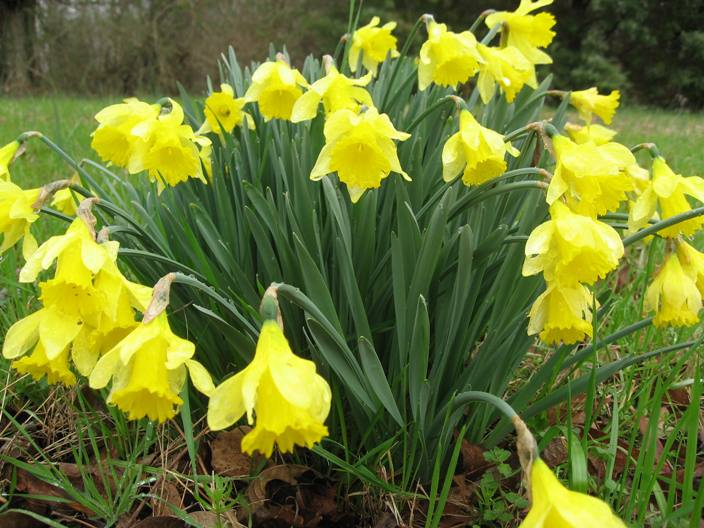 Bulbs
Plant bulbs now through December for spring bloom. Many of the daffodils bloom very early starting in February. When planting don't forget the Bulb Booster. It gets them off to a good start. All our bulbs are here and ready for planting.
Paperwhites are lovely to have around during the holiday season. They need no chilling to bloom. They will grow in either soil or rocks and water. Be sure to give them lots of strong light or they will become leggy.
Plant amaryllis now too, for a good show during the holidays. I have planted amaryllis in soil and also rocks and water but I find the soil works the best.
Pansies and Snapdragons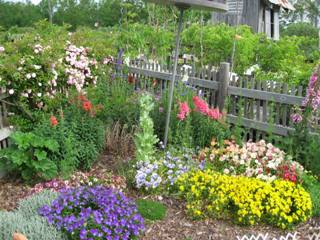 Pansies are a cool season favorite. They come in so many colors it is hard to choose which one to plant. Pansies will bloom through the winter and put on a big show in spring. They can freeze solid, thaw out and just keep on going.
Remember to use a water soluble fertilizer 15-3-20, 15-3-30, 13-2-13 are some suggested ratios. Avoid slow release fertilizers since they are less effective in the cooler weather. Blood meal is also a good organic fertilizer for pansies.
Plant your snapdragons in the fall also. In the spring you will have lots of flowers.
Growing Garlic and Fall Crops
Plant some garlic this year. It is very easy to grow and takes up very little garden space. Garlic is planted in the fall and harvested in the spring. Turban garlic is often recommended for us here in the south. Some of the varieties are Thai Purple, China Dawn and Chinese Purple. However, I have planted garlic that I bought at a farmer's market and it worked well. You should amend your soil with compost before you plant. It is also suggested that you should mulch. Mulching conserves moisture, moderates soil temperature and prevents weeds.
Fall fall crops can still be planted. Lettuces, cabbage, kale and Swiss Chard plants are available at the nursery. Take a look at our vegetable garden. Kale, Giant Red Mustard, cabbage and they look happy now that the weather has cooled off.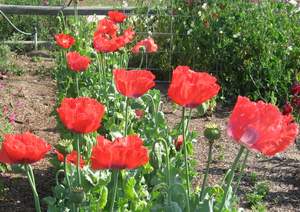 Plant Wildflower Seed
The 2018 wildflower seed is available. The seeds should be sown between October and January since many of the seeds require cold weather to germinate.
The ground should be prepared by lightly tilling or raking so that the seed will make contact with the soil. In order to disperse the seed evenly place your seed in a bucket of 4 parts builders sand to 1 part seed. The sand helps disperse the seed so there won't be clumps of seedlings.
The seeds are sold by the teaspoon or tablespoon depending on the size of the seed.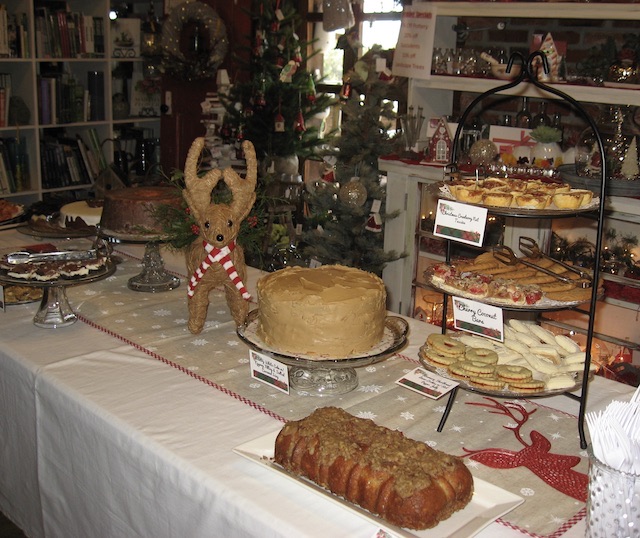 Join us for Christmas Open House
November 23 from 9-5 and Sunday, Novmber 24 from 1-5 are the dates of this year's Open House. JQ's one man band will be with us again this year making spirits bright with his Christmas songs.
Debbie Boutelier will conduct Herbs for the Holidays Workshop on Saturday November 23 at 1:00pm. Check out our https://petalsfromthepast.com/events/ for details and how to register for this program.
Pat and I will be cooking up a storm for this event. Stop by for some treats as well as the many items that will be on sale.