November, 2020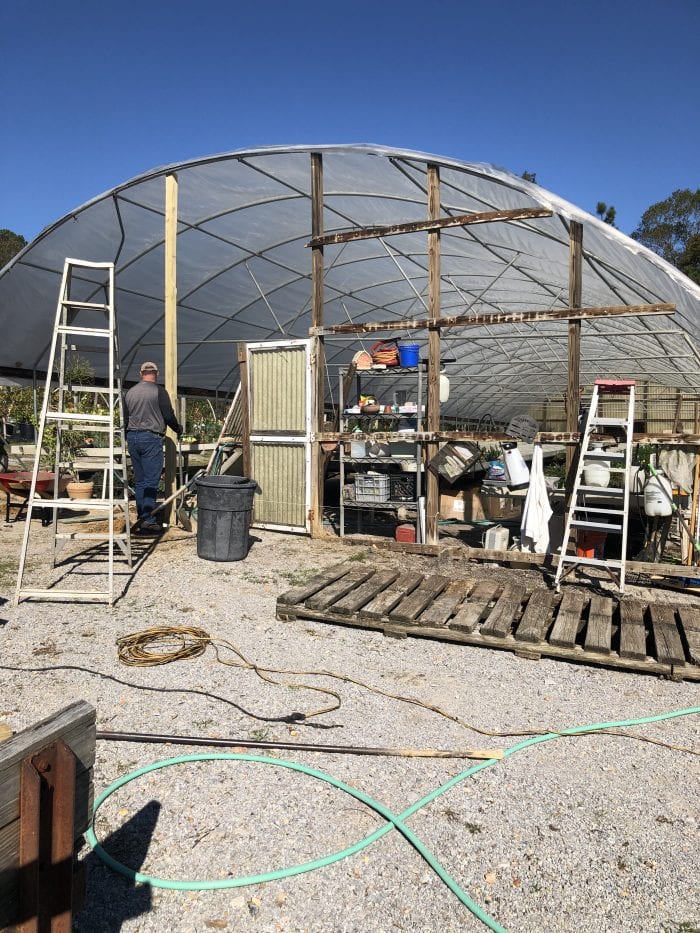 Hurricane Zeta dealt our County a devastating blow. Many large tress were uprooted and homes damaged. At Petals we had some damage but not as bad as it could have been. We lost the front of one of our greenhouses and we are rebuilding it now. The wind also pushed a whole row of Kiwi vines over and a row of muscadines as well. It could have been much worse and we are very grateful that most of the damage can be fixed.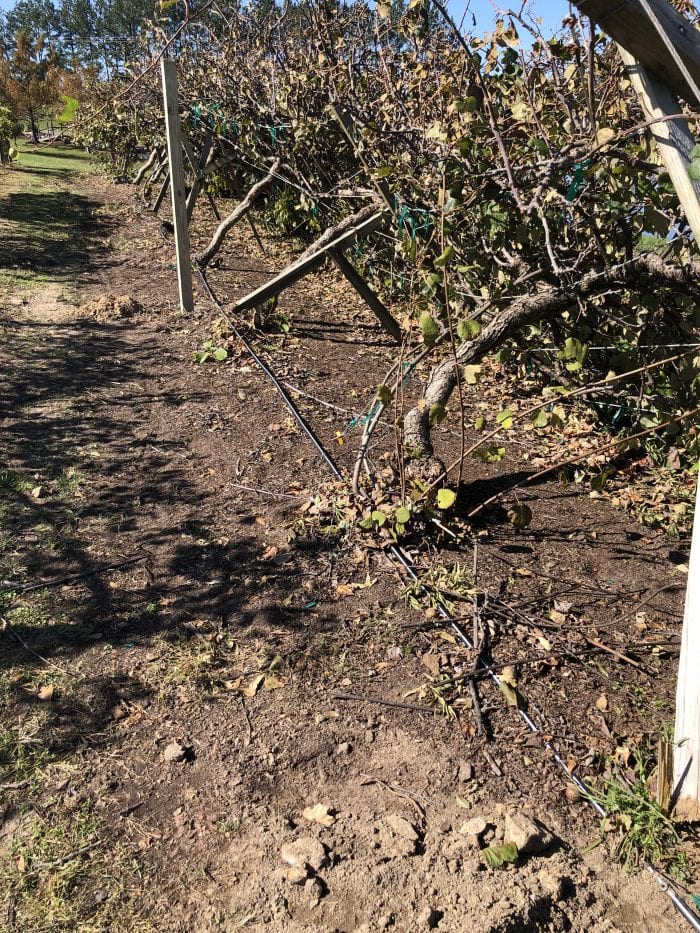 Kiwi Vines Blown over in the Storm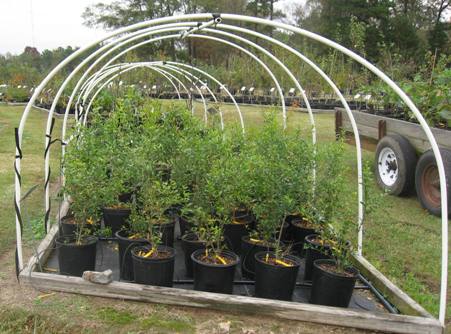 Prepare for Frost
It's that time of year again to check out your freeze cloth and make sure it is in good condition. If it needs replacing now would be the time to do it. It is a good idea to be ready for frosty weather.
We use this cloth to cover our citrus trees and any other frost tender plants. I use it in my vegetable garden to cover my lettuces. Citrus trees should be covered when the temperature is going to be 28 degrees or below. However if there is fruit on the tree it should be covered when temperatures reach 32 since the fruit will freeze at that temperature.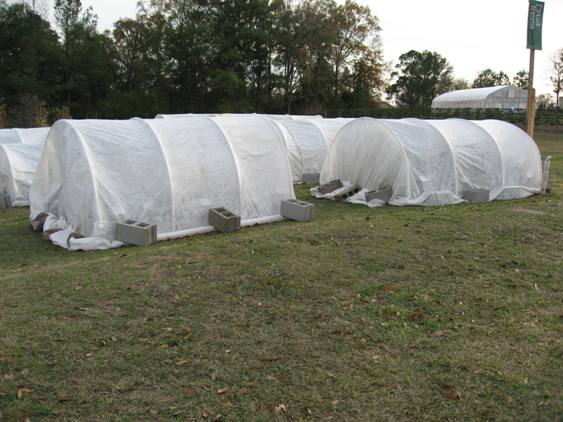 If this is the first year that your citrus trees are planted in the ground, make sure that you have a frame around them to support your winter cloth. Anywhere that the cloth touches the plant it will damage the leaves. Dr. Powell makes a frame from PVC pipe and rebar. You can too, just like at our nursery. The excess cloth should be weighted down with cinder blocks or rocks. It can also be rolled in landscape timbers or metal pipe. You don't want it to blow off exposing your trees to the cold and wind. If you have an electrical source nearby you could also place a light inside the frame which would give off additional heat.
This fabric is breathable and can be left on the trees for several days during a cold spell. It should be removed when the temperatures are above freezing to give your tree a chance to get direct sun. This cloth can be purchased at the nursery. It comes in 15 and 30 foot widths. We have some 15 x 15 foot lengths already cut. The cost is $25.00. However, we will custom cut any length you need.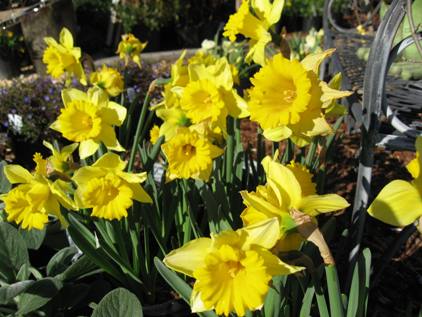 Bulbs
Plant bulbs now through December for spring bloom. Many of the daffodils bloom very early starting in February. When planting don't forget the Bulb Booster. It gets them off to a good start. All our bulbs are here and ready for planting.
Paperwhites are lovely to have around during the holiday season. They need no chilling to bloom. They will grow in either soil or rocks and water. Be sure to give them lots of strong light or they will become leggy.
Plant amaryllis now too, for a good show during the holidays. I have planted amaryllis in soil and also rocks and water but I find the soil works the best.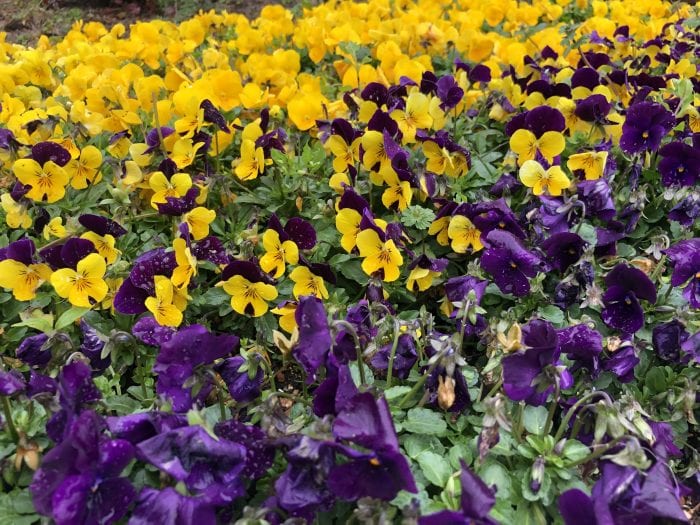 Violas, Pansies and Snapdragons
Pansies and Violas are a cool season favorite. They come in so many colors it is hard to choose which one to plant. Pansies will bloom through the winter and put on a big show in spring. They can freeze solid, thaw out and just keep on going.
Remember to use a water soluble fertilizer 15-3-20, 15-3-30, 13-2-13 are some suggested ratios. Avoid slow release fertilizers since they are less effective in the cooler weather. Blood meal is also a good organic fertilizer for pansies.
Plant your snapdragons in the fall also. In the spring you will have lots of flowers.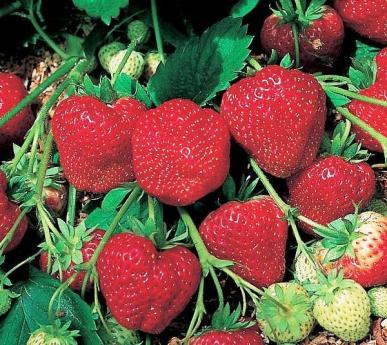 Fall is the time to plant Strawberries in the South
In the south strawberry plants a planted in the fall and harvested in the spring usually in April and May. Our strawberry plants are here now. The varieties we have are Albion, Camino Real, Festival, Ruby June and Sweet Charlie. All these strawberry varieties have some disease resistance. Strawberry plants are susceptible to Verticullium Wilt so it is best not to plant them were nightshades have been planted or select varieties that are resistant to the disease.
Albion is a good choice for areas with hot summers. It is an everbearing variety which means it will flower and fruit continuously from late spring to fall. It is high yielding and tolerates heat and humidity with good disease tolerance.
Camino Real is a is a short day cultivar similar to Camarosa but a little later fruiting. The fruits are a little darker red than Camarosa, very firm and with good flavor.
Festival is a good all around variety of strawberry. It's high production and good quality tasting fruit make it a star among strawberries.
Ruby June is a short day "June-bearing" variety. It produces large berries with great flavor for early-mid season.
Sweet Charlie a short day cultivar that performs well in hot humid climates. The medium sized fruits are sweet and flavorful.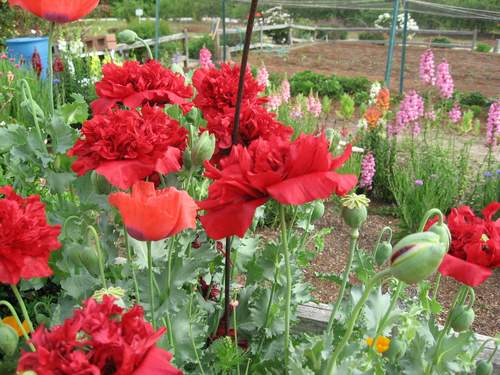 Plant Wildflower Seeds
The 2021 wildflower seed is available. The seeds should be sown between October and January since many of the seeds require cold weather to germinate.
The ground should be prepared by lightly tilling or raking so that the seed will make contact with the soil. In order to disperse the seed evenly place your seed in a bucket of 4 parts builders sand to 1 part seed. The sand helps disperse the seed so there won't be clumps of seedlings.
The seeds are sold by the teaspoon or tablespoon depending on the size of the seed.
Don't burn all the fall leaves compost them! I till them straight into my vegetable garden and by spring they are compost. Start cleaning up your perennial border in preparation for winter. Cut back any dead or dying plants.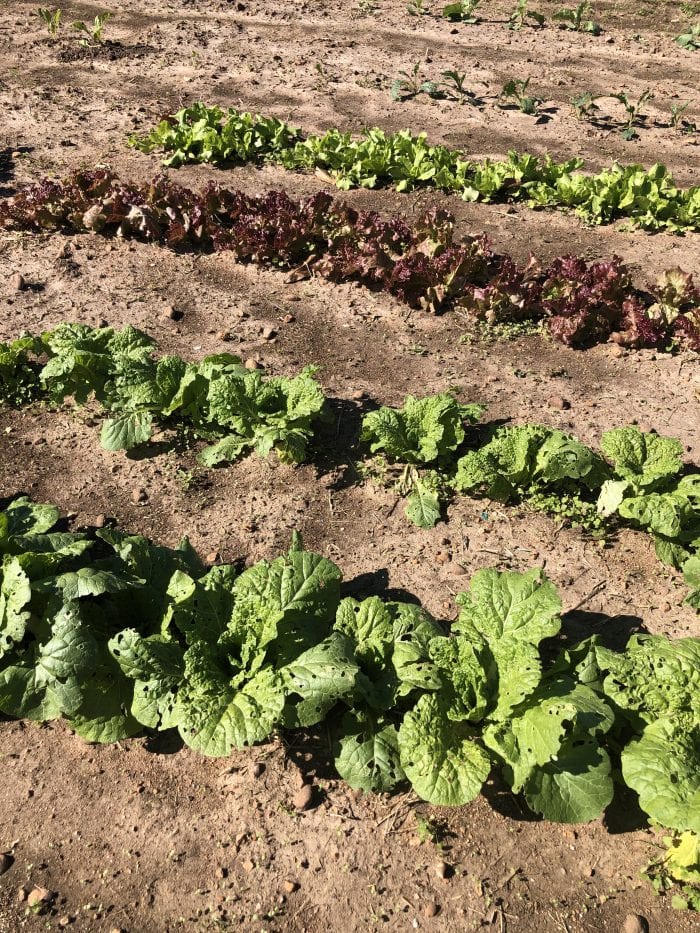 Fall Vegetable Garden
Fall vegetables can still be planted. Cabbage, Kale, Swiss Chard and many types of lettuce are available at the nursery. As the winter progresses I always cover my lettuces with the cover cloth and they are good for most of the winter.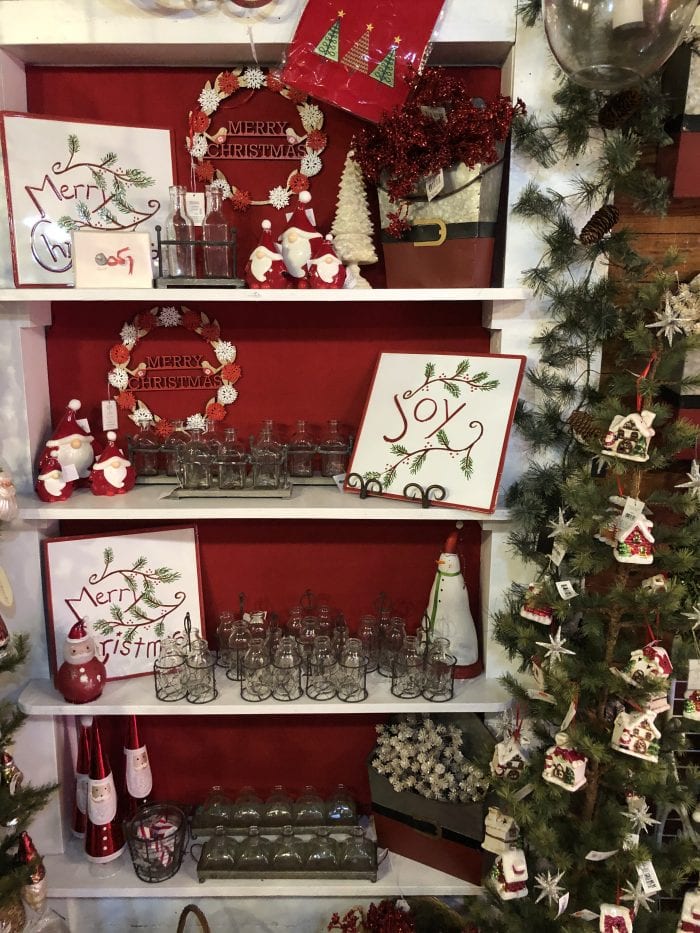 Christmas Open House
Join us on November 21, for Christmas Open House. The refreshments will be served from 9-1:00 this year in our Educational Barn. We are adjusting the way we have always done Open House to be compliant with CDC recommendations about social distancing. We want everyone to be safe. We will require that you wear a mask.
Debbie Boutelier will conduct a Holiday Workshop on Saturday, November 21 at 2:00pm. Check out our Event Page for details of her program.